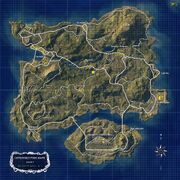 Currently, there is only one playable Map in PlayerUnknown's Battlegrounds.
Maps are considered the battlegrounds for PUBG. You will start each game aboard an aircraft and then parachute out of the craft to your desired location.
There will be random events throughout the game such as crate drops from airplanes or red zones that will be under heavy artillery fire.
You'll need to stay within the map's dynamic boundaries if you wish to stay alive.
Erangel is the only current map that is playable on PUBG servers. It is a Soviet inspired island map that has a wide array of elevation changes, cities, and open areas.
Future Maps
Edit
South America
Europe
Training
Ad blocker interference detected!
Wikia is a free-to-use site that makes money from advertising. We have a modified experience for viewers using ad blockers

Wikia is not accessible if you've made further modifications. Remove the custom ad blocker rule(s) and the page will load as expected.