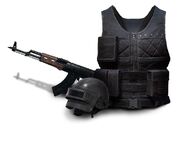 Equipment in PlayerUnknown's Battlegrounds is mostly cosmetic, with some exceptions. Beside weapons, there are different levels of helmets, armor, and backpacks.
Helmets and vests reduce damages to head and upper body, respectively, and backpacks provide more space so players can carry more items.
Equipment
Edit
Master Table
Edit
Patch changes
Edit
Ad blocker interference detected!
Wikia is a free-to-use site that makes money from advertising. We have a modified experience for viewers using ad blockers

Wikia is not accessible if you've made further modifications. Remove the custom ad blocker rule(s) and the page will load as expected.